Vintage Twin Beds
In the early 1900s, the American Renaissance movement sought to mimic the dark oak furniture of England. The vintage twin beds here reflect that trend. To lighten the look, the matching night stand was painted and modern elements, like the ribbed glass lamp, were added.
Egyptian cotton coverlets top cotton percale sheets. Cotton linen toss pillows, duvet covers, and shams in blue and brown build the look with layers of color and texture. A mohair throw in brown and gray plaid ties the look together.  Sepia photographs framed in brushed silver frames mix traditional elements with modern, a recurrent theme.
The same vintage oak beds work in children's rooms.  For girls, bright colors–a rainbow striped blanket, teal coverlet, and decorative pillows–are energetic and fun.  An embroidered pillow with peacock, tulip, and butterfly adds whimsy, while a coral pink linen square offers a burst of color.  A sea glass pillow case and Tahitian stitch toss pillow reiterate the colors of the coverlet–and the ribbed glass lamp.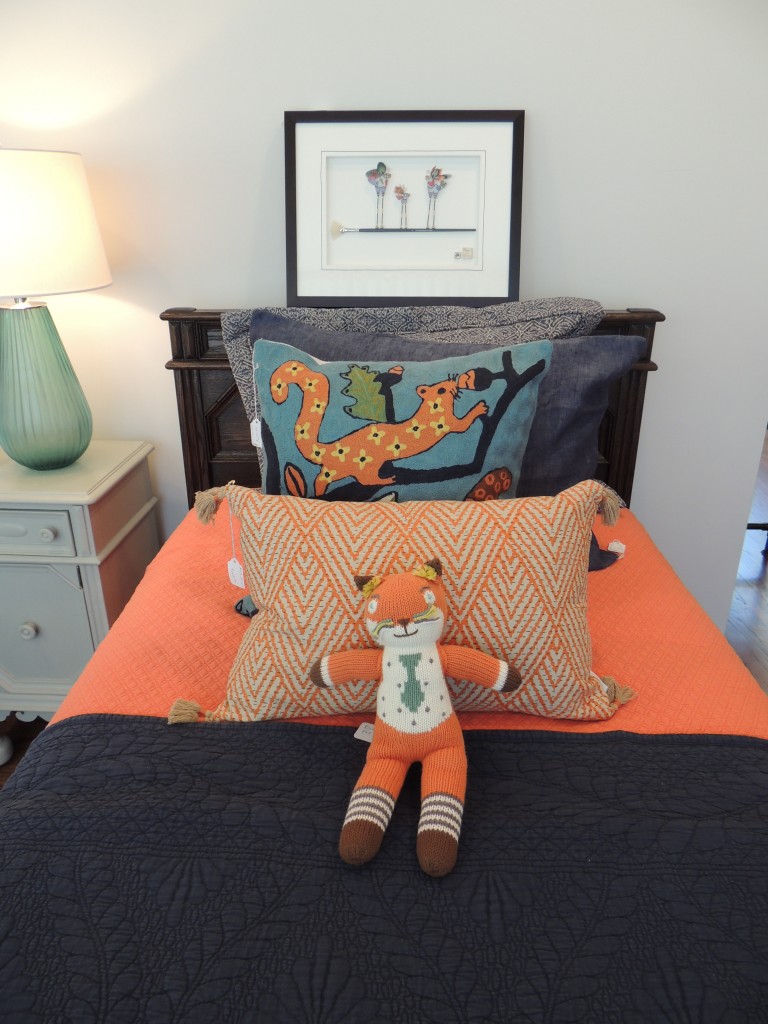 Embroidered squirrels replace butterflies and peacocks for this no-nonsense, all-boy look.  Pillow shams provide a simple backdrop for toss pillow and toy atop washable, no-iron matelasse coverlets, in navy and tangerine.
Both children's views use classic hemstitch sheets and pillow cases, in platinum.  Enamel ware "collages," crafted by Sean Brown of Washington State, are playful and upbeat.